New Release – Training for Today and Tomorrow: A Communication Perspective by Tiffany R. Wang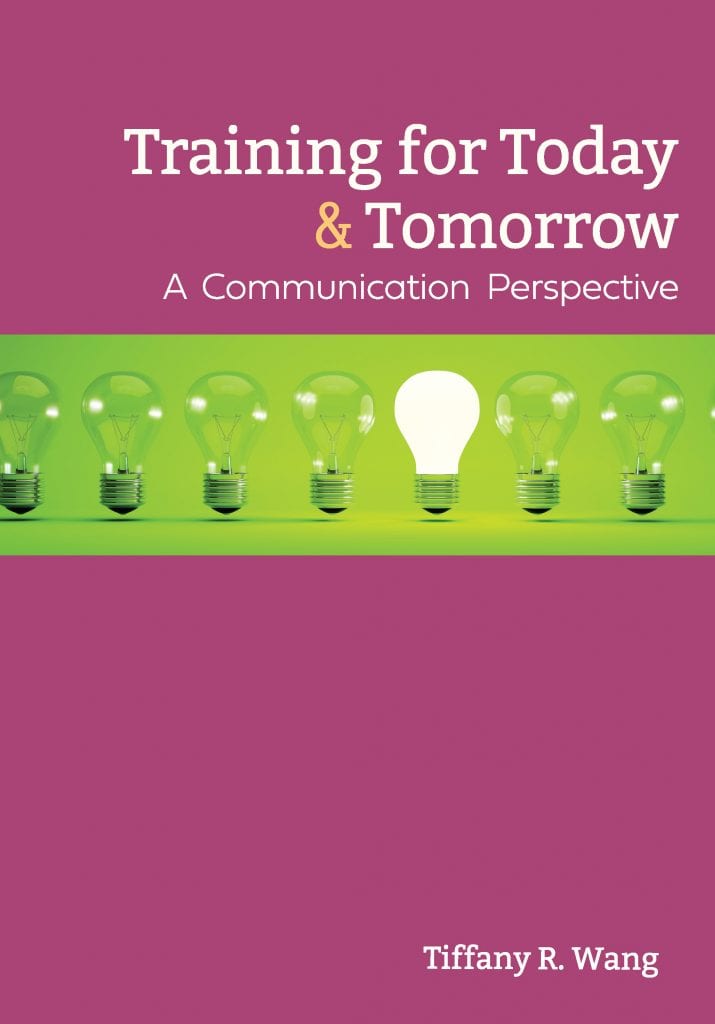 San Diego, CA – March 22, 2021 – Cognella Academic Publishing is proud to announce the publication of Training for Today and Tomorrow: A Communication Perspective by Tiffany R. Wang.
Being a successful trainer requires first being an effective communicator. Training for Today and Tomorrow provides communication-centered research and industry-informed instruction that speaks to the knowledge and skills students need to become successful trainers.
The book combines key concepts from communication studies with examples from the industry to prepare today's students for the challenges and opportunities they will encounter in a rapidly changing field. The text includes interviews with industry professionals, information on how trainees learn, insight into incorporating inclusivity in training sessions, and an exploration of various training-related career paths students can pursue.
Each chapter opens with a case study that presents a challenge or dilemma a trainer faces on the job. Throughout the chapter, students are encouraged to help this industry professional determine how to approach the task or predicament using the skills discussed in the chapter.
Concise yet thorough, Training for Today and Tomorrow is an ideal core textbook for courses in training and development, instructional communication, and communication education.
Training and Development Professional Spotlights throughout the text include:
Natalie Ellis, PHR, Senior Technical Instructional Designer at CSG
Candace Chambers, Chief Executive Officer/Chief Academic Coach at Educational Writing Services, LLC
Lora Schafer, President/Principal Consultant at GrowStrong Consulting
Pauline Mwanzia, Human Resources Director at SIL International
Madeline Heine, Trainer, F&I Solutions at Cox Automotive, Inc.
Betty Grogan, Director of Learning and Development at McWane, Inc.
Dr. Joshua Fredenburg, National Speaker/Author/President at the Circle of Change Leadership Experience
Brandi Smith, College Readiness (12)-Instructor/Grade Level (12)-Chair at KIPP Nashville
Katherine Forsythe, Basic Course Director and Instructor at Texas Christian University
Anel Albertao, English Learning Development Specialist at the Foundation for Hispanic Education, Cofounder at tPopTech: Institute for Technology and Pedagogy
Brandi Pate Hill, Human Resources and Legal Staff Manager at Bradley Arant Boult Cummings, LLP
Jamie West-Sardo, Instructional Designer at Full Sail University
Jason Eagar, Senior Manager, Specialty Sales at Galderma
Kacie Kilpatrick, Director of Recruitment, Scholarships, and Student Engagement at University of Alabama at Birmingham School of Education
Dr. Lisa Gates, Faculty, Director, and Advisor for Postsecondary Educational Leadership at San Diego State University
Tiger Todd, Chief Executive Officer at Heroes Incorporated
About the Author
Tiffany R. Wang (Ph.D., University of Nebraska-Lincoln) is an associate professor of communication studies and the basic course coordinator at the University of Montevallo. She is the executive director of the Central States Communication Association, the recipient of numerous national and international research and teaching awards, and an active trainer and speaker, providing instruction and guest lectures for nonprofit organizations and educational institutions. Dr. Wang's research interests include instructional communication, communication education, and family communication.
What reviewers are saying about the text: 
"This text provides students with a concise, yet thorough, introduction to concepts and principles in Training and Development. It includes basic case study examples which students can work on, as well as profiles of T&D professionals who have undergraduate/graduate degrees in Communication Studies and which students can relate to."
Andrew S. Rancer, University of Akron
"The purpose of the text is quite clear—Wang is offering an upper-level, undergraduate textbook that provides an overview of Training and Development as both a function of modern organizations and as a skill-set that students can learn to perform (at least at an introductory level). This is a reader-friendly textbook that lends practical value and professional examples to the sometimes vague or general focus of a communication program (particularly a program that isn't focused on journalism, media, and/or public relations areas). The professional profiles are a highlight as well as Chapter 10 and the description and variety of careers."
Elaine D. Zelley, La Salle University
"I really enjoyed the inclusion of a case study at the beginning of each chapter. One of the difficult things about skills-based courses is it's hard to imagine how to actually perform the skill, her case studies will help with that. Overall, I found her arrangement and reasoning for the book very compelling…The topic of inclusivity [in Ch 7, "Training Presentation and Delivery"] is very important but often overlooked in training contexts. Including that as the first section of chapter helped to really highlight the importance of inclusivity and allowed [the author] to demonstrate just how important it is to the training world. This addition of inclusivity also helps to set [this] book apart from other books on the topic… This [textbook is] a modern take on T&D that gives a great explanation of what T&D is, how to run a training, and the different career paths."
Caroline Waldbuesser, Western Connecticut State University
"I like the text as a comprehensive introduction to the field of training and development. It takes an applied process approach that is firmly grounded in theory and empirical research."
Kendra Knight, DePaul University
"I think this book would help me cover the important learning outcomes in my course. I feel confident that by reading this book, students would acquire the knowledge needed to develop and conduct a formal training session… [In Ch 7, "Training Presentation and Delivery"] I think [the author] did a fantastic job describing inclusivity, connectedness, participation, and engagement. I agree that all four of those areas are crucial to building relationships with trainees. A person not familiar with instructional communication research could read this chapter and gain incredible insight on effective teaching behaviors in the trainer-trainee relationship."
Jordan Atkinson, Missouri Western State University
"The section on inclusivity, connectiveness, and participation [in Ch 7, "Training Presentation and Delivery"] is missing from my current textbook. I am thankful for this inclusion in the textbook. Overall, this chapter was a breath of fresh air. I have not seen the material on presentation and delivery presented in this manner."
Creshema R. Murray, University of Houston-Downton