New book by Dr. Monique M. Chouraeshkenazi – Homeland and National Security: Understanding America's Past to Protect the Future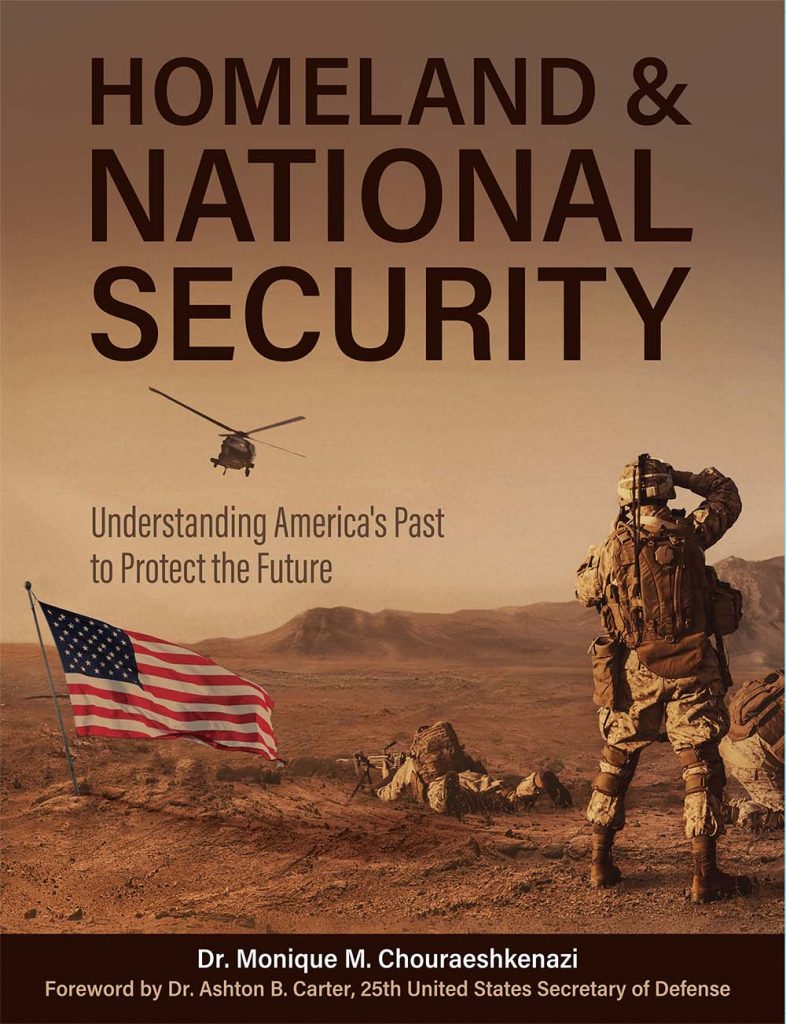 San Diego, CA – April 30, 2018 – Homeland and National Security: Understanding America's Past to Protect the Future by Dr. Monique M. Chouraeshkenazi examines the events that have led to the establishment of the Department of Defense and how national security has changed since then. The September 11, 2001 attacks on American soil resulted in the creation of the Department of Homeland Security, the country's third largest Cabinet-level department, highlighting homeland security as another primary objective in protecting the na­tion.
Early chapters provide historical perspective, describing the nature and practice of national security from the American Revolutionary War through the post-Cold War era. The latter half of the book provides a detailed examination of homeland and national security concepts as we now un­derstand it, which includes consideration of traditional ter­rorism, homegrown terrorism, innovative terrorism, natural disasters, conflict, specific statutes, initiatives, and agencies, and the roles of intelligence, emergency preparedness, and communications.
Each chapter includes key terms, learning objectives, case studies, application activities, and a quiz. The book can be used in courses of political science, domestic and interna­tional terrorism, homeland security, emergency manage­ment, international relations, national security, homeland security strategy, policy, and specific aspects of criminal justice. It will also be of interest to government agencies dealing with security issues, and lay readers interested in a critical area of American policy.
A former antiterrorism instructor for the United States Air Force, Dr. Monique M. Chouraeshkenazi served over thir­teen years of active duty service specializing in cyber-se­curity, knowledge operations, and security management. She earned a Ph.D. in public policy at Walden University, where she focused on terrorism, mediation, and peace. Dr. Chouraeshkenazi teaches at American Public University Sys­tem as an associate professor for the School of Security and Global Studies. She is also a lead adjunct professor for the School of Graduate and Degree Completions Programs in criminal justice at Tiffin University and an adjunct professor at Southern New Hampshire University. Currently, she is pursuing a doctorate in forensic psychology at the Eisner Institute of Professional Studies.
To learn more visit: https://titles.cognella.com/homeland-and-national-security-9781516518944
About Cognella® (www.cognella.com)
Cognella® is redefining academic publishing by creating teacher-driven, student-centric higher education course materials in print and digital formats under three imprints: Cognella® Academic Publishing (cognella.com/imprints/academic-publishing), Cognella® Custom (cognella.com/imprints/custom), and Cognella® Active Learning (cognella.com/imprints/active). Cognella enables professors to align educational materials to specific courses and learning objectives. This unique approach makes Cognella a trusted source for more than 4,000 instructors and 125,000 students annually at over 650 colleges and universities across the U.S. and Canada. Cognella also publishes engaging nonfiction titles featuring modern perspectives as Cognella® Press. Cognella is a privately held company located in San Diego, California.
About the Chouraeshkenazi Group (https://www.thedrmoshow.com/)
The Chouraeshkenazi Group is an agency based on the education, analysis, and research of homeland/national security, terrorism, international politics, and foreign policy.
For media inquiries please contact:
Natalie Piccotti
npiccotti@cognella.com
858-552-1120 x532