Two Cognella Textbooks Receive 2022 American Journal of Nursing Book of the Year Awards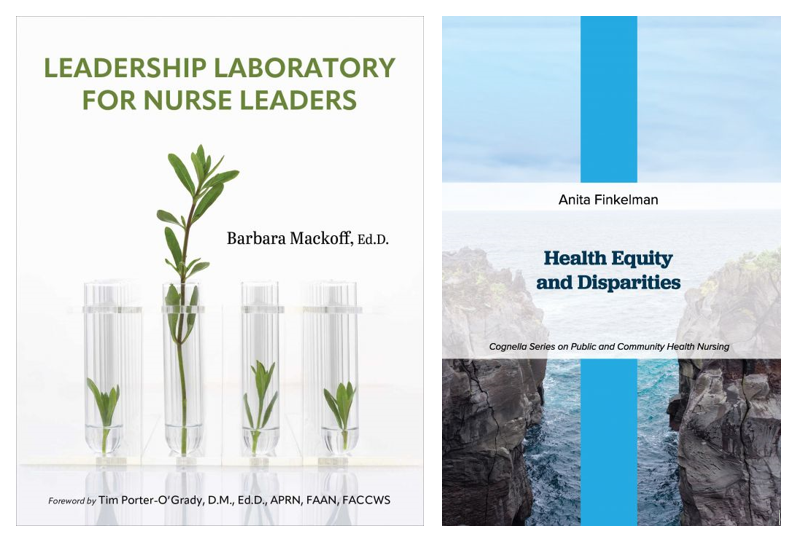 San Diego, CA – January 9, 2023 – Two Cognella textbooks were recently honored with 2022 Book of the Year Awards from the American Journal of Nursing (AJN). Since 1969, AJN has published an annual list of the most valuable nursing texts published annually. The journal invites experts to serve as judges across 20 subcategories within the discipline. This year, Leadership Laboratory for Nurse Leaders by Barbara Mackoff, Ed.D. was awarded first place in the Professional Issues category, and Health Equity and Disparities by Anita Finkelman, MSN, RN was awarded third place in the History and Public Policy category.
Leadership Laboratory for Nurse Leaders by Barbara Mackoff is an innovative and interactive workbook that challenges readers to reflect upon their personal experiences in learning how to lead through the lens of new and established ideas in the literature of nursing, psychology, education, sociology, and anthropology. Readers are guided through a series of laboratories, encourage to consider real-world examples of leadership success and challenges from peers, and prompts to experience with new leadership strategies drawn from research.
The judging panel shared the following comments about the text: 
"Leadership Laboratory for Nurse Leaders provides invigorating scaffolding to ensure a transformational process in the leadership journey. This workbook's approach of helping readers learn through application and reflection is designed not only to cultivate skilled, artful nurse leaders, but to develop leaders who truly champion humanity—their own as well as that of those they serve. 
Author Barbara Mackoff activates the truth that we are all in a constant state of becoming. The book's laboratory approach, centered on evidence-based literature and leaders' lived experiences, is rooted in a growth mindset. The adage that 'We don't learn from experience, we learn from reflecting on experience' rings true on every page. The workbook deepens leaders' connection to meaning and purpose, self-stewardship, and the core values of the nursing profession, and supports nurse leaders in sustaining themselves and others in the vital work of health care. There is no more pressing need in the profession than for magnetic, authentic nursing leaders. This work is a multiplier in service to that end."
"I am honored and delighted that Leadership Laboratory for Nurse Leaders was chosen for this AJN award," said Mackoff. "Working with nurse leaders has been the love of my professional life. This book is a passion project for me, because I was able to share stories and strategies from nurse leaders around the world to illustrate shiny ideas in evidence-based literature. In addition, I am donating all of my royalties to scholarship funds for the American Organization for Nursing Leadership Nurse Manager Fellowship."
Designed to support current standards and goals for the nursing profession, Health Equity and Disparities by Anita Finkelman provides students with a succinct yet vital exploration of health disparities, their impact on health system, and the ways in which nursing professionals can promote more equitable health experiences. The book is part of the Cognella Series on Public and Community Health Nursing, a collection of concise, informative guides that explore critical topical areas, their nursing application, and their relationship to nursing practice.
"Receiving an AJN Book of the Year Award is very important to me and an honor," said Finkelman. "It is particularly special as the book focuses on critical issues today in health care, health equity, and disparities. The book is a result of a team effort, and I do not say this because it is often an expected comment. The team at Cognella is outstanding and creative, and I continue to enjoy working collaboratively with them."
"We are honored to have been selected for two 2022 AJN Book of the Year Awards and thrilled by the well-deserved designation of excellence they provide our winning authors, Barbara Mackoff and Anita Finkelman," said Amanda Martin, Cognella Nursing and Health Sciences Publisher. "As we expand the nursing portfolio at Cognella, these awards affirm that we are well-serving nursing education and the nursing profession. We owe great thanks to our incredible authors for entrusting us as their partner for developing and disseminating their valuable work."
Learn more about Leadership Laboratory for Nurse Leaders by Barbara Mackoff: https://titles.cognella.com/leadership-laboratory-for-nurse-leaders-9781793572790 
Learn more about Health Equity and Disparities by Anita Finkelman: https://titles.cognella.com/health-equity-and-disparities-9781793572806
About Cognella®
Cognella® is redefining academic publishing by creating teacher-driven, student-centric higher education course materials in print and digital formats under three imprints: Cognella® Academic Publishing, Cognella® Custom, and Cognella® Active Learning. Cognella also publishes engaging nonfiction titles featuring modern perspectives as Cognella® Press. Learn more at www.cognella.com.  
About The American Journal of Nursing
The American Journal of Nursing is the oldest and most honored broad-based nursing journal in the world. Peer-reviewed and evidence-based, it is considered the profession's premier journal.
For media inquiries please contact:
Natalie Piccotti
Director of Marketing, Cognella, Inc.
858-552-1120 x532