Carrie Montoya, Manager of Revisions and Author Care at Cognella, Named a Publishers Weekly Star Watch Honoree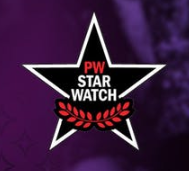 Montoya is 1 of 50 individuals recognized within the publishing industry
San Diego, CA – August 13, 2019 – Carrie Montoya, Manager of Revisions and Author Care at Cognella, was recently named a Publishers Weekly Star Watch Honoree. Fifty honorees from the U.S. and Canada were selected for their trailblazing spirit, innovative problem-solving, and leadership qualities by a panel of editors and managers from Publishers Weekly, Frankfurter Buchmesse, and the American Booksellers Association. This elite group reflects outstanding professionals from all facets of the publishing industry, from publicity to production, bookselling to new technology, and everything in between.
View a full list of the 50 Publishers Weekly Star Watch Honorees.
"Carrie is an invaluable member of the Cognella team," said Kassie Graves, Vice President of Editorial and Carrie's nominator. "She not only provides incredible service as a revisions editor, guiding approximately 50 authors through the revisions process annually, she also oversees the Author Care team, a critical component of our business. Carrie has established numerous processes that allow us to continually receive feedback from our authors regarding key areas of their publishing experience. With this valuable information, we're able to improve our processes in support of our authors and consistently strengthen those important relationships.
Additionally, she spearheaded and continues to oversee the Cognella Cares Student Scholarship Program, which awards three students annually with scholarships to use toward books and tuition, based on essay submissions about current issues affecting society and education. She manages the entire process, from sending out announcements to overseeing the judging process to communicating with winners. It's quite an undertaking, and she handles it beautifully."
"Carrie is the youngest member of our managerial team, and her passion for her work at Cognella and her keen insight have made an impact on key decisions throughout the company from day one," said Bassim Hamadeh, Cognella CEO. "She continually shows dedication, commitment, and a hunger to learn and grow within her role. We are incredibly proud of her."
The 50 Publishers Weekly Star Watch Honorees will be narrowed down to a Top 5, to be announced and profiled in the September 2, 2019, issue of Publishers Weekly. All honorees are invited to a celebratory event at the Marquee nightclub in New York City on September 18, 2019, where the Publishers Weekly Superstar will be named. The winner receives a sponsored trip to the 2019 Frankfurt Book Fair.
"I'm unendingly grateful for the numerous opportunities Cognella has given me to grow and thrive," said Montoya. "When Kassie nominated me, it was yet another example of the encouraging environment in which I'm lucky to work every day. I'm honored and humbled to be among the Top 50, and I'm so proud to be a Cognellan!"
About Cognella®
Cognella® is redefining academic publishing by creating teacher-driven, student-centric higher education course materials in print and digital formats under three imprints: Cognella® Academic Publishing, Cognella® Custom, and Cognella® Active Learning. Cognella also publishes engaging nonfiction titles featuring modern perspectives as Cognella® Press. Learn more at www.cognella.com. 
For media inquiries please contact:
Natalie Piccotti
Director of Marketing, Cognella, Inc.
858-552-1120 x532