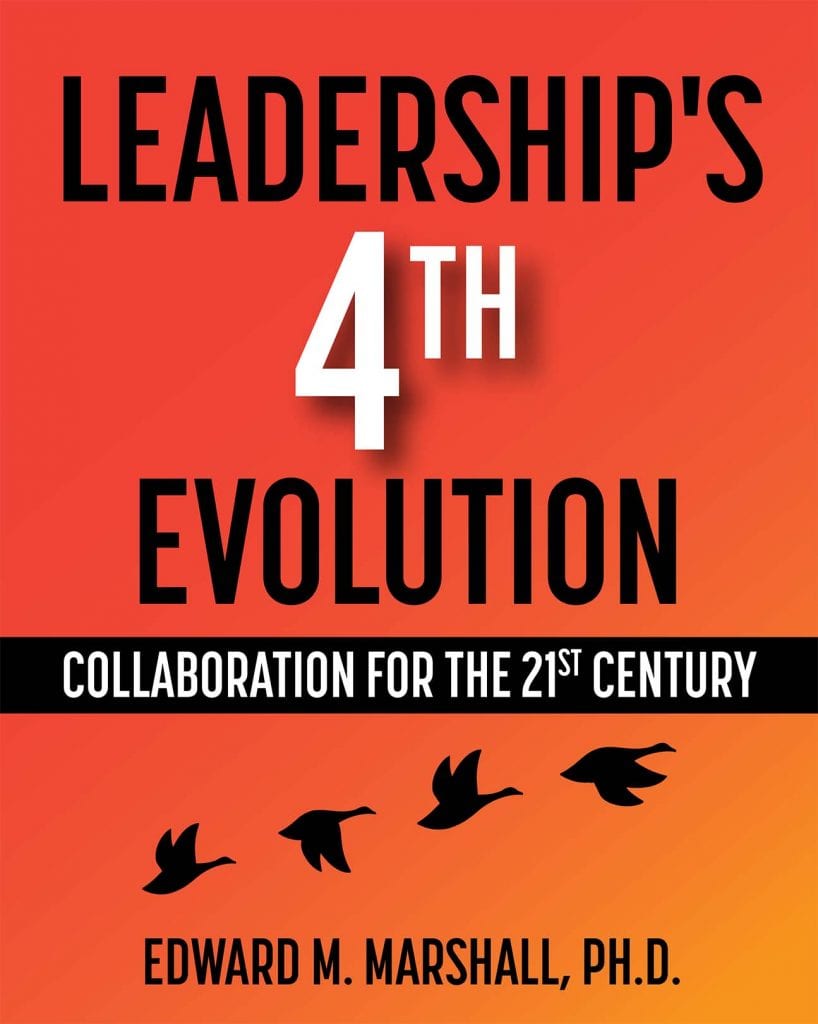 San Diego, CA – June 9, 2020 – Cognella Academic Publishing is proud to announce the forthcoming publication of Leadership's 4th Evolution: Collaboration for the 21st Century, written by Edward M. Marshall, Ph.D., and scheduled to publish Fall 2020.
About the Book 
"The realities of the 21st Century require us to urgently transform our leadership cultures from power to collaboration. Otherwise, as President Obama said, 'There is no Plan B.' By the end of this century, we may not have any organizations to lead." – Edward M. Marshall, Ph.D.
The 21st Century Digital Age presents both current and future business leaders with a complex set of professional challenges which require a new type of leadership. They include market volatility, economic and employment uncertainty, accelerated technology, a diverse global workforce, and existential threats from global pandemics and climate change. The predominant leadership paradigm, however, is still 20th Century Industrial Age hierarchy, which is compliance-oriented and based on power, control, and fear. This approach is increasingly out of step with today's realities. Today's organizations require a transformational approach to leadership, a proven theory and methodology for how to empower and motivate the workforce to be their best selves and to do their best work so they can produce superior results. That day has come. It's the dawn of a new era of collaboration.
Leadership's 4th Evolution: Collaboration for the 21st Century is grounded in and built upon the work of organization theorists, researchers, and experts who have helped us begin shift from the Power Paradigm of the Industrial Age to the People and Principle Paradigms of the last sixty years. Douglas McGregor, Edgar Schein, Stephen Covey, James Kouzes, Barry Posner, Daniel Goleman, Peter Senge, and Robert Cooke each, in their own way, helped us better understand the relationship between human motivation and organizational imperatives. We learned that people are social beings who like to work in teams and need to be trusted, respected, and appreciated. They helped us understand how leadership cultures result in different kinds of behavior and that people prefer constructive/collaborative cultures. They also helped us understand the need to lead by principle rather than power, personality, or politics.
After 40 years in the field working with Fortune 500 clients on five continents, Edward Marshall came to understand that culture drives human behavior, that a culture of collaboration is the way people naturally want to work, that "We" is more important than "I," collective action is more effective than rugged individualism, and almost any problem can be solved if we work together collaboratively.
The challenges we face in the 21st Century make it clear we need a new leadership paradigm, one that is based on trust not fear, on ownership not control, and on principle not power. We need a leadership methodology that honors people for the gifts they bring to the workplace, empowers them to be their best selves so they can do their best work, and enables them to be agile and resilient in the face of rapid and disruptive organizational and global change. That methodology is the award-winning, best-practice Collaborative Method, a systems approach to transformative change at the leader, team, organization, and global levels.
Leadership's 4th Evolution is a key resource for four main audiences. First, it is uniquely designed for both graduate and undergraduate students who are looking to start their careers in engineering, business, law, health care, public administration, public policy, education, and social work. Second, it is especially relevant for participants in leadership courses and programs in executive education and corporate universities who are developing high potential leaders. Third, this book will be particularly helpful to any business leader who wants to motivate and engage the Millennial and GenZ workforce and understands that 21st Century business challenges require a 21st Century leadership methodology. Finally, it provides a framework, tools, and processes for global leaders to more effectively collaborate to solve critical challenges like COVID-19 and climate change.
To learn more about the book or request a digital review copy, visit: https://titles.cognella.com/leadership-s-4th-evolution-9781516598465
About the Author
Edward M. Marshall, Ph.D. is a pioneer and thought leader in the field of collaborative leadership and cultural transformation. He has worked with C-suite executives at Fortune 500 companies like Microsoft, DuPont, Marriott, IBM, and Philips, as well as entrepreneurial and mid-sized firms. His work has taken him beyond clients in North America to South Asia, Africa, Latin America, and Europe. He has facilitated more than 100 change initiatives in technology, healthcare, and manufacturing companies, ranging from strategic alliances and business process redesigns to mergers, IT integrations, and cultural transformations. As a result of this work, he designed, tested, implemented and improved the Collaborative Methodsm, a suite of services that enable organizations to create and sustain collaborative leadership cultures.
He has authored two best-selling business books, Transforming the Way We Work: The Power of the Collaborative Workplace and Building Trust at the Speed of Change. Dr. Marshall teaches leadership at Duke University, is an ICF certified executive coach, and manages a consulting firm. He holds three service marks, has received the Excellence in Organization Development award from the Association for Talent Development, and a Lifetime Top 15 Trust Thought Leader award from Trust Across America. He also writes a nationally syndicated workplace column for American City Business Journals.
What readers are saying about the book:
"This book is a remarkable combination of principles, historical analysis, review of major theories of organization development, and detailed prescriptions for the kind of leadership and collaborative group work that will be necessary to save our planet and the kind of civil society that we all value. By reviewing the work of many academic theorists, successful consultants, and analysts of leadership, group, and cultural dynamics, the author extracts the important insights, principles, and practices necessary to cope with the evermore complex challenges that our world presents us with. This book is, in effect, a manifesto to move from an egocentric 'I and me' society to a collaborative 'We' society."
Edgar H. Schein, Professor Emeritus, MIT Sloan School of Management
Author with Peter Schein of Organizational Cultural and Leadership (2017), Humble Leadership (2018) and The Corporate Culture Survival Guide, 3rd Edition (2019)
"Edward Marshall's book lays bare the urgent leadership imperative for all of us, in this generation, at this time, to take on complex issues like climate change collectively. He maps out the path of collaborative leadership so we can meet our responsibilities in our time. He recognizes that any change, any progress, ultimately happens through people. His great insight is that collaborative leadership has the potential to do something that power-based leadership could never do—transform people involved in the collaboration for effective, sustained change. This is infinitely more desirable a goal that transactional, short term 'wins' that the power model of leadership might attain at best."
Ravi V. Bellamkonda, Ph.D., Dean, The Pratt School of Engineering, Duke University
"While halfway through the first chapter of I couldn't help thinking that this was the book I needed a few years back for my MBA Management and Organization Development class.  Though I'm not teaching any longer, I still need this book—for colleagues (leaders as well as consultants) who request readings to help them really understand organizations, initiate and implement development plans, and help those around them to do the same. 
This book is a fantastic treatise on leadership and, given its title, will be visible and attractive to many readers interested in the topic.  It is important to add, however, that the chapters are equally relevant to and informative for those interested in organizational culture. Over the past 40 years, organizational culture has evolved from a rarely used and somewhat misunderstood construct to one that is overly used yet still frequently misunderstood.  From the very first chapter, Edward Marshall clarifies the construct, provides in-depth insights into the types of cultures that enable organizations to be effective today, and discusses viable levers for moving cultures in a more constructive and collaborative direction.  In the process, he provides a great list of references and makes it easy for the reader to track down both classic and contemporary writings on organizational culture and leadership."  
Robert A. Cooke, Ph.D., Associate Professor Emeritus of Management at the University of Illinois at Chicago; Author of the Organizational Culture Inventory, Co-Author with Janet L. Szumal, Creating Constructive Cultures (2019); CEO, Human Synergistics International
"I have seen the collaborative approach described in this book build trust and produce outstanding results. It should be considered by every business leader."
J. W. Marriott, Jr., Chairman and CEO, Marriott International
"Having worked with Dr. Marshall's framework and approach to leadership in multiple organizations, I can attest to the power and the practicality of this approach to leadership in a modern organization. It was essential to our organizational and team development at Microsoft and later at VMware. This is an essential guide to managing in a world that has transformed for nearly every organization."
Tony Scott, Former CIO of Microsoft, VMware and Disney
Former Federal CIO for President Barack Obama
CEO, Tony Scott & Company
"A thorough, thoughtful, and actionable look at what's required in the 21st Century to lead yourself as well as your team and organization.  Complete with advice about steps to take and pitfalls to avoid."
Barry Z. Posner, Ph.D., Accoiti Professor of Leadership and Former Dean of the Leavey School of Business, Santa Clara University; Co-Author with James. M. Kouzes, The Leadership Challenge, 6th Edition (2017)