New Book by Dr. Nanette Tummers – Healthy Choices for Your Health, Wellness, and Overall Happiness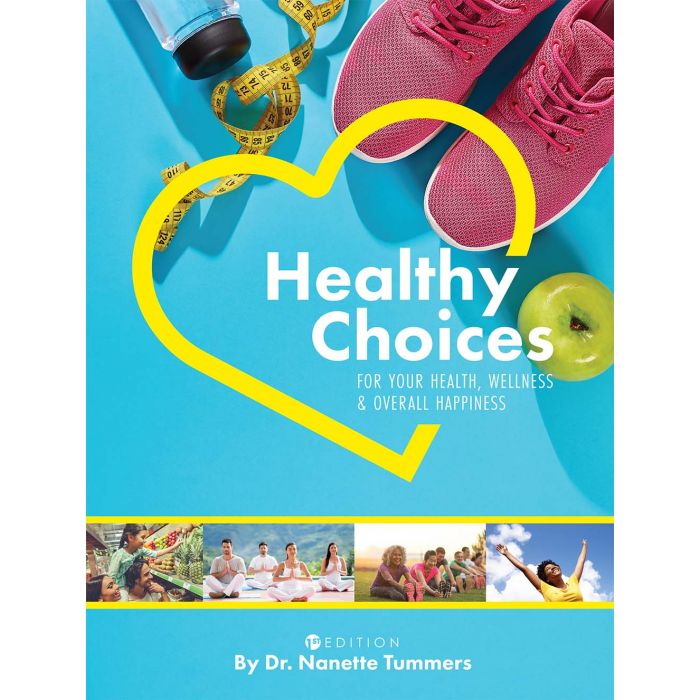 San Diego, CA – January 1, 2019 – Cognella Academic Publishing recently published Healthy Choices for Your Health, Wellness, and Overall Happiness by Dr. Nanette Tummers, a textbook that introduces students to proactive practices they can apply to positively affect their current and long-term health. The book encourages readers to examine key aspects of their personal wellness and make adjustments to enhance their health now rather than later in life. It explores topics related to health broadly, while also exploring social, emotional, spiritual, physical, environmental and intellectual wellbeing to provide students with a comprehensive understanding of health and wellness in today's society.
The text begins by explaining the difference between health and wellness and the impact of protective measures on health. Students learn effective strategies for promoting and advocating for their personal well-being. Later chapters teach readers how to improve the health and safety of their immediate environment and the world around them, and how to establish health behavior changes that last. The final chapter helps readers put all the information together to establish a personal wellness strategy.
Healthy Choices for Your Health, Wellness, and Overall Happiness is an ideal supplementary text for foundational courses in public health and healthcare professions. It can also be used for pre-service professionals in health education pedagogy.
A certified holistic stress management instructor and yoga teacher, Dr. Nanette Tummers received her Ed.D. in kinesiology and health promotion from University of Northern Colorado. She earned her M.S. in cardiovascular health and exercise from Northeastern University and B.S. in adaptive physical education and health education from Springfield College, focusing her work on stress management and wellness. She is a professor of health and physical education at Eastern Connecticut State University.
To learn more about the book, visit: https://titles.cognella.com/healthy-choices-for-your-health-wellness-and-overall-happiness-9781516519163
About Cognella
Cognella® is redefining academic publishing by creating teacher-driven, student-centric higher education course materials in print and digital formats under three imprints: Cognella® Academic Publishing, Cognella® Custom, and Cognella® Active Learning. Cognella also publishes engaging nonfiction titles featuring modern perspectives as Cognella® Press. Learn more at www.cognella.com.
For media inquiries please contact:
Natalie Piccotti
Director of Marketing, Cognella, Inc.
858-552-1120 x532