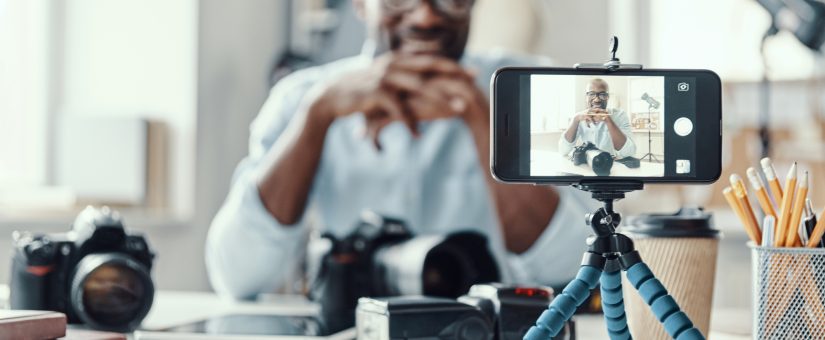 Lights, Camera, Action! Creating a Promotional Video for Your Textbook
Creating video content to promote your textbook is a great way to engage with potential adopters and readers in a highly personalized way. Your passion, expertise, and experience with teaching can come through on film. You can communicate with your peers in a way that makes the ultimate impact. And with everyone more comfortable online than ever before due to the COVID-19 pandemic, the accessibility of the content and the attentiveness of potential viewers is greater than in years past.
Whether you're a novice with video or you have experience creating this type of content, here are some best practices to ensure your video is effective, informative, and enjoyable: 
Before you film, set up a clean, well-lit backdrop and secure a quiet space. Since videos are both visual and auditory in nature, it is critical your recording is clear and easy to hear. If not, you'll lose your audience quickly, or they won't be able to concentrate on your content. After you've set up your space, create test videos, watch them back, and make adjustments accordingly. That way, when you hit Record, your only concern is your delivery.
If you aren't already familiar with platforms like YouTube, Vimeo, and other video-sharing sites, explore them. It's important to know where your videos will be viewed and what the experience is like for viewers. On these sites, you can also conduct research. Look up a mix of videos—some created for educational purposes and others for entertainment purposes. What approaches do you find engaging? What approaches fall short? What types of delivery best align with your teaching style and personality? All of this experience will help you plan strategically for your video. 
Make sure to have your book handy! When you introduce yourself in the beginning of your video, hold up your book so your audience can easily recognize your work after viewing. This practice also allows for the creation of a polished, professional, and relevant still frame that can be used as the preview image for your video.
Determine the scope and length of your video. If you'd like to do a quick pitch, 90 seconds or less is optimal. Though we're all used to being online more often, our attention spans are still short, and you don't have long to hook your audience. In a short piece, your ultimate goal is to pique interest and then provide instructors with options to learn more. Think of it as a commercial for your book.
If you'd like to create a video that provides more robust and detailed content (for example, how certain chapters address key competencies/skill sets or how you'd assign chapters or readings for a semester-long course), less than 10 minutes of engaging, valuable material is a good goal. If you feel you may exceed 10 minutes, you may want to consider creating a series of videos that break up your content.
Practice, practice, practice. Write a script or create talking points. Read everything aloud off camera a few times so that you'll be that much more comfortable on camera. Test your audio and visual components to ensure your lighting and sound are at the right levels. Record multiple takes, so you can determine your best delivery. The more polish, the better!
Speak beyond your promotional/back cover copy. Rather than reciting the promotional copy that graces your back cover, provide instructors with fresh insights and information they can't find elsewhere. What are its unique pedagogical features or topical areas within your book? How can this text support students' mastery of the subject matter? If you're publishing a new or revised edition, how has the content changed, and why are the updates valuable?
As a best practice, do not include any third-party materials in your video, including images, music, film, etc. These types of materials are often subject to copyright and permissions, especially within the context of marketing and promotion. Instead of including visuals, focus on your script and connecting with your audience.
Make sure to include information about how instructors can find your book online and request a copy for their review. This provides viewers with a clear call-to-action. As a promotional tool, you want the video to pique viewers' interest and inspire them to want to learn more. If you don't provide them with clear next steps, you may lose their attention and resolve.
Lastly, there's no "correct" way to deliver your information. Different instructors will utilize different approaches—according to their discipline, personality, expertise, the subject matter, their ultimate goal in creating a textbook—and that's great! Embrace your unique perspective and your strengths. Exude confidence, passion, and professionalism.
Check out a few examples of promotional videos created by Cognella authors. Each of these videos is very different in terms of approach and content, but bottom line, they are all engaging and effective. 
Dr. Rona Halualani speaking about her text, Intercultural Communication: A Critical Perspective: https://www.youtube.com/watch?v=GqBUTRVqGOU&feature=youtu.be  
A book trailer, created by author Michael Dorn and a video team, for Extreme Violence: Understanding and Protecting People from Active Assailants, Hate Crimes, and Terrorist Attacks: https://www.youtube.com/watch?v=0ut79UKKA1o&feature=youtu.be  
Dr. Matthew Crick speaking about his text, Applied Communication and Practice: https://vimeo.com/446319464