Cognella Receives Top Workplace Honor for Second Consecutive Year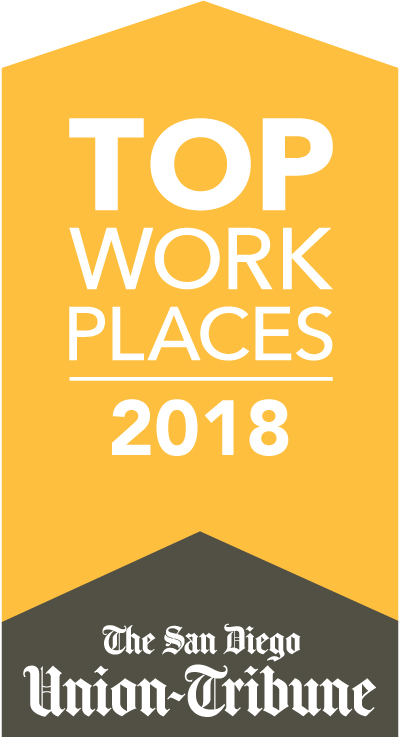 The San Diego Union-Tribune has recognized Cognella for outstanding company culture
San Diego, CA – November 12, 2018 – Cognella has been awarded a 2018 Top Workplaces honor by The San Diego Union-Tribune. The list is based solely on the results of employee feedback gathered through a third-party survey administered by Energage, LLC (formerly WorkplaceDynamics), a leading provider of technology-based employee engagement tools. The anonymous survey measures several aspects of workplace culture, including alignment, execution, and connection, to name a few.
"To receive a Top Workplace designation in San Diego for the second consecutive year is truly special," said Cognella CEO Bassim Hamadeh. "It speaks volumes about the company culture we've developed and what we value both as team members and a company. I know our focus on creating and maintaining a work environment that values innovation, creativity, collaboration, performance, and perhaps, most importantly, staying healthy and having fun, will continue to produce exceptional results for the company and our business partners. Ultimately, few things make me as happy as seeing our teammates happy and thriving at work."
"Top Workplaces is more than just recognition," said Doug Claffey, CEO of Energage. "Our research shows organizations that earn the award attract better talent, experience lower turnover, and are better equipped to deliver bottom-line results. Their leaders prioritize and carefully craft a healthy workplace that supports employee engagement."
About Cognella®
Cognella® is redefining academic publishing by creating teacher-driven, student-centric higher education course materials in print and digital formats under three imprints: Cognella® Academic Publishing, Cognella® Custom, and Cognella® Active Learning. Cognella also publishes engaging nonfiction titles featuring modern perspectives as Cognella® Press. Learn more at www.cognella.com.
 About Energage, LLC
Headquartered in Exton, Pa., Energage (formerly known as WorkplaceDynamics) is a leading provider of technology-based employee engagement tools that help leaders to unlock potential, inspire performance, and achieve amazing results within their organizations. The research partner behind the Top Workplaces program, Energage has surveyed more than 47,000 organizations representing well over 16 million employees in the United States.
For media inquiries please contact:
Natalie Piccotti
Director of Marketing, Cognella, Inc.
858-552-1120 x532