New Release – Craving for Ecstasy and Natural Highs: A Positive Approach to Mood Alteration (Second Edition)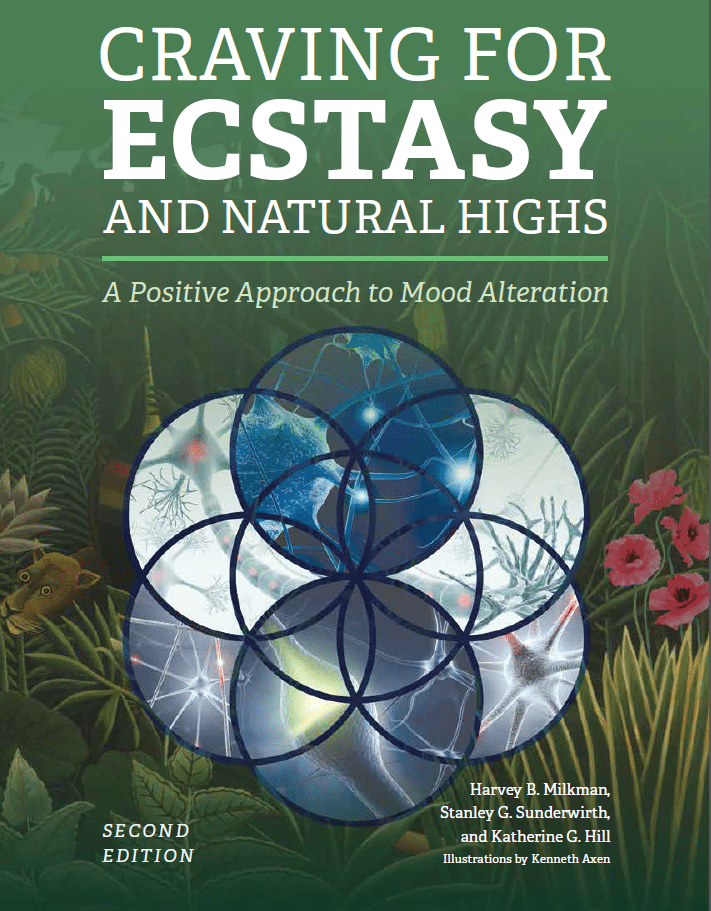 San Diego, CA – November 1, 2018 – Cognella Academic Publishing recently published Craving for Ecstasy and Natural Highs: A Positive Approach to Mood Alteration (Second Edition) written by Harvey B. Milkman, Stanley G. Sunderwirth, and Katherine G. Hill. The book explains how the pursuit of pleasure can result in compulsion and loss of control, and explores positive ways to achieve lasting happiness. It provides insight on how to improve quality of life and how to offer support to students, clients, family, or friends whose lives may be compromised by addiction.
Timely and comprehensive, the text addresses current topics related to drug use and society, including the medicalization, legalization, and widespread availability of THC, the complex problem of prescription and black-market drug abuse, nicotine's effects on the brain, the growing popularity of e-cigarettes and hookah bars, and more. In addition, a wide range of behavioral addictions are explored, including gambling, sex, and the internet.
Dedicated chapters address addiction through topics such as pleasure and the brain, food-mood links (including sugar addiction), and the ways in which thrill-seeking and risk-taking can alter neurochemistry.
A notable addition to the second edition of Craving for Ecstasy and Natural Highs is a chapter devoted to America's opioid crisis, titled "Feeling No Pain: The Opioid Era." This chapter addresses the misuse of prescription narcotics, the illegal manufacture of synthetic opioids (such as fentanyl) and their problematic sale to anonymous customers on the "dark web," and the complex issue of medications that can both reduce human suffering and incite profound and detrimental addiction. The possible benefits of psychedelics such as MDMA (ecstasy) and psilocybin in the treatment of mental disorders such as obsessive-compulsive disorder and PTSD are explored.
Another chapter that readers will find timely and of interest is "Compelled by Fantasy." In this chapter, readers learn the connection between compulsive fantasy and extremely harmful behavior, with "religious addiction," the Heaven's Gate cult, the Columbine massacre, and the formation of terrorist organizations and groups serving as prime examples of expressions of fantasy addiction. The chapter dives deeper into the subject matter by introducing the the idea of shared delusions, which explains how fantasy may become integrated with the lives of those around us to form a symbiotic system in which parties involved reap mutual benefit from a shared alteration of reality.
A capstone feature of the work is the introduction of natural highs, "self-induced changes in neurotransmission that result in positive feeling states, health, and well-being for the individual and society." Active involvement in sports, the arts, yoga, meditation, close relationships, and meaningful engagement of talents, along with healthy eating and exercise, are shown to have enormous benefit in the quality of life.
The "Natural Highs" section of the text also provides evidence-based strategies for early prevention of substance abuse and other social and behavioral problems as well as effective interventions for at-risk teenagers who may be on the threshold of developing lifelong patterns of substance misuse or criminal conduct.
Highly readable and engaging, Craving for Ecstasy and Natural Highs will appeal to students of addictive behavior, physical and mental health practitioners of all kinds, and anyone interested in discovering healthy ways to find satisfaction, wellness, and a natural sense of elation in life.
About the Authors
Harvey B. Milkman earned his doctorate at Michigan State University. He is professor emeritus in the Department of Psychology at Metropolitan State University of Denver, where he specializes in cognitive-behavioral approaches to mood alteration. He is a visiting professor and Fulbright scholar at Reykjavik University in Iceland. Dr. Milkman was interviewed on NPR's Here and Now program regarding the introduction of natural highs to youth in Iceland and the resulting drop in substance abuse. You can listen to the full interview at: http://www.wbur.org/hereandnow/2017/03/09/iceland-teen-substance-abuse
Stanley G. Sunderwirth, Ph.D., was professor emeritus at Indiana University – Purdue University Indianapolis and the author of numerous publications on brain chemistry and its effect on mind, mood, and behavior. He received his Ph.D. in organic chemistry from The Ohio State University.
Katherine G. Hill, Ph.D., is an associate professor of psychology at Metropolitan State University of Denver. Dr. Hill completed postdoctoral training at Oregon Health & Science University, studying models of drug and alcohol reward. Her areas of expertise include psychopharmacology, and cravings and addictions.
To learn more about the book, visit: https://titles.cognella.com/craving-for-ecstasy-and-natural-highs-9781516508198 
What readers are saying about Craving for Ecstasy and Natural Highs: 
"Harvey Milkman and Stanley Sunderwirth have written a tour de force. Craving for Ecstasy and Natural Highs: A Positive Approach to Mood Alteration is a beautifully written and organized book… a thrill ride through the most innovative and insightful perspectives that science and clinical experience have to offer. The second edition includes new chapters focused on marijuana, opioids, cigarettes and nicotine, changing patterns of female AOD use, evidence-based treatment models including medication assisted treatment, and a review of Iceland's preeminent public health model for preventing substance abuse. Like the first edition, this is hip and artistic, reflecting a deep understanding of addiction. Craving for Ecstasy and Natural Highs is a major contribution to the field."
Howard J. Shaffer, Ph.D.
Morris E. Chafetz Associate Professor of Psychiatry in the Field of Behavioral Sciences, Harvard Medical School
Director, Division on Addiction, The Cambridge Health Alliance
Past Editor, Psychology of Addictive Behaviors
"If there is but one book that you read about pleasure, addiction, and recovery this by far THE book. Craving for Ecstasy and Natural Highs is by the most comprehensive, informative, and ground breaking book that I have read on these broad subjects. Fascinating as it is fun to read, it is a gold mine of cutting edge science and a go-to book for insights on drug and natural highs."
John B. Arden, Ph.D., author of Mind-Brain-Gene
"There is not a society on earth that does not regularly employ intoxicants. The human desire to transport our minds to states of awe, wonder, and ecstasy is ubiquitous. It is akin to a basic instinct, like hunger, sex, and attachment.
We learned this crucial lesson, now essential to beat back the opioid and other drugs epidemic and a world encased in ennui, from Dr. Milkman in the groundbreaking first edition of Craving for Ecstasy and Natural Highs. Now we can learn so much more as Dr. Milkman updates us – in his always engaging style – on what is new and revelatory in the science and culture of hedonic practices, including drug use and abuse.
The 2nd Edition of Craving for Ecstasy and Natural Highs is remarkably timely and exceptionally relevant. You will want to read it, and you will enjoy the read." 
Lloyd I. Sederer, MD
Adjunct Professor, Columbia University School of Public Health
Chief Medical Officer, New York State Office of Mental Health
About Cognella
Cognella® is redefining academic publishing by creating teacher-driven, student-centric higher education course materials in print and digital formats under three imprints: Cognella® Academic Publishing, Cognella® Custom, and Cognella® Active Learning. Cognella also publishes engaging nonfiction titles featuring modern perspectives as Cognella® Press. Learn more at www.cognella.com.
For media inquiries please contact:
Natalie Piccotti
Director of Marketing, Cognella, Inc.
858-552-1120 x532