New Release – Positive Counseling: A Guide to Assessing and Enhancing Client Strength and Growth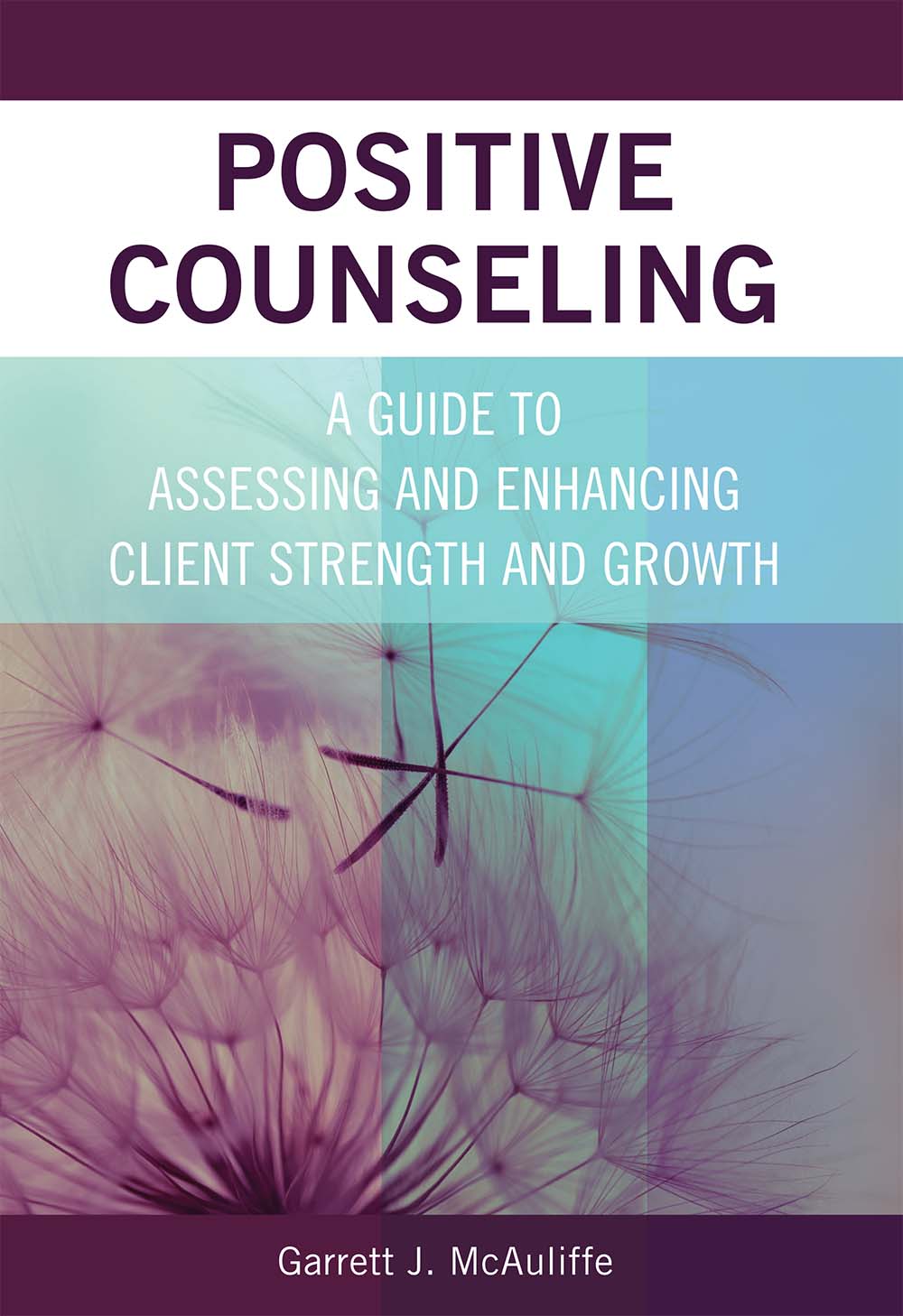 San Diego, CA – October 5, 2018 – Cognella Academic Publishing recently published Positive Counseling: A Guide to Assessing and Enhancing Client Strength and Growth written by Garrett J. McAuliffe. Written for graduate students and practitioners, the book is a comprehensive introduction to positive counseling methods. This unique text provides a balanced assessment model that invites counselors to consider the four positive dimensions in a client's life: cultural context; life phase; cognitive stage; and personality style.
The material is organized into two primary sections. The first discusses ways to determine the positive and wellness dimensions of an individual's life, and then use these dimensions to craft alternative ways to conceptualize tendencies and challenges in order to complement or replace diagnoses of pathology. The second section features eight chapters on positive intervention, each highlighting a specific counseling approach. Each chapter includes worksheets that allow readers to work with the topic in a dynamic way.
Featuring the writing of experts in their respective topics, Positive Counseling gathers together new thinking and research on positive psychology and presents it in one outstanding resource. It is an excellent choice for courses in positive psychology and counseling theories.
About the Author 
Garrett J. McAuliffe earned his Ed.D. in counseling at the University of Massachusetts, Amherst and is a professor of counseling and human services at Old Dominion University. Dr. McAuliffe has written extensively on topics in the discipline, with his work appearing in, among others, Counseling Today, the Journal of Counseling and Development, and Counselor Education and Supervision. He is the author/coauthor of several books including Handbook of Counselor Preparation: Constructivist and Developmental Approaches, and most recently Irish Perspectives on Counseling. Widely regarded as a significant contributor to the counseling field, Dr. McAuliffe has won multiple awards for his research, teaching, and advocacy.
To learn more about the book, visit: https://titles.cognella.com/positive-counseling-9781516511952
What readers are saying about Positive Counseling: 
"Finally, a book that puts together the state of knowledge in positively-oriented counseling. Comprehensive in coverage and filled with original and useful ideas, Positive Counseling provides a wide array of assessment techniques and an in-depth and stimulating look at a number of contemporary positive-focused theories. The book is a vital resource for students and practitioners."

Dr. Edward Neukrug, NCC, LPC, Licensed Psychologist
Professor of Counseling and Human Services and University Professor
Old Dominion University
"This timely addition to the knowledge base combines philosophy, ethics, and science to provide an excellent overview of the positive counseling paradigm for readers. The writing provides both breadth and depth, inviting dialogue while also offering practical and concrete recommendations for practice. Professor McAuliffe both affirms the roots of the counseling profession and the role counselors play in the current movement towards promoting well-being as the focus of care for all professional helpers."

Jeff Moe, PhD, LPC, NCC, CCMHC
Associate Professor & Chair
Department of Counseling & Human Services
Darden College of Education
Old Dominion University
About Cognella
Cognella® is redefining academic publishing by creating teacher-driven, student-centric higher education course materials in print and digital formats under three imprints: Cognella® Academic Publishing, Cognella® Custom, and Cognella® Active Learning. Cognella also publishes engaging nonfiction titles featuring modern perspectives as Cognella® Press. Learn more at www.cognella.com.
For media inquiries please contact:
Natalie Piccotti
Director of Marketing, Cognella, Inc.
858-552-1120 x532