Desktop Support Associate
Cognella, Inc. is on the lookout for a talented individual to join us as a Desktop Support Associate within our technology team. In this role, you'll be our go-to for first-line IT support, handling a diverse range of technologies. We hope you're excited about helping new teammates settle in, as you'll be guiding them through onboarding and training. Your attention to detail, combined with your knack for solving computer hardware and software challenges, will make you an invaluable part of our team. Clear communication is key, especially when assisting both our in-office staff in Solana Beach and our remote teammates via Zoom and RMM tools. If you thrive in a dynamic, collaborative setting and take a proactive approach to problem-solving, we'd love to hear from you. Even if you're just starting out, but have the skills and enthusiasm, please consider applying. There's ample opportunity for growth here! This role will have you working closely with our Director of IT Operations. We can't wait to welcome you onboard!
Responsibilities:
Provide both in-person (Solana Beach) and remote frontline support company wide.
Identify, research, and resolve a wide variety of computer and technical problems.
Ensure our IT Support Portal (and Zoom channel) requests are handled in a timely manner, clearly communicating updates and status changes with teammates.
Ability to communicate with teammates to gather and clarify issue details.
Workstation setups (laptops), machine imaging, backup/restore processes.
Printer/scanner, docking station, webcam setup and support.
Provide new hire onboarding support with laptops, equipment, apps, access, etc.
Organize IT equipment returns and coordinate related shipments.
iPhone, iPad, mobile device, 2FA setup and related support.
Provide administrative support for various applications and tools.
Provide 2nd tier technical support for external customers (rare) as needed.
Create and maintain documentation of desktop support processes via our internal wiki.
Create how-to screenshots/videos, host lunch-n-learns, and assist with training.
Assist with special projects and QA application testing for development projects.
Qualifications:
High degree of self-motivation and initiative; driven, hard-working with a fire-in-the-belly to succeed.
Strong, polished verbal and written communication skills: friendly, punctual, professional, responsive.
Incredible organizational habits; task-oriented, strategically minded, fast learner.
Intellectually curious; passionate about helping people; focused, attentive to details.
Exceptional time-management, prioritization, and technical problem-solving skills.
Ability to lift 50 pounds and reliable transportation for FedEx drop offs.
1+ years into a technical college degree, or equivalent work experience.
2+ years of troubleshooting Windows 10/11 (primary) and/or MacOS.
Expert: Windows, MS Office/M365, Google Docs, Zoom/Slack.
Desirable: LastPass, NinjaOne, Box, Jira, Active Directory, Windows Server.
Bonus: Scripting experience, familiarity with AWS/Azure, LAMP stack, Linux shell, etc.
Compensation:  Hourly wage ranges based on assigned professional levels and experience. This role is projected to be a Junior Professional level starting at $52,000.00/yr. Competitive benefits package for full-time employees. We offer a health, vision, and dental plan at a 70% contribution match for the individual; generous vacation with Cognella's "flexible" vacation policy of non-accrued paid time off; holiday (12 holidays/year); sick time (10 days/year); and 401K matching plan (4% match on the first 5% of an employee's annual compensation after one year of employment (100% match of the first 3% and 50% match from 3%-5% of an employee's annual compensation)); and anniversary, wellness, public transportation, and educational programs.
Reports to: Director of IT Operations
Status: Full-Time, Non-Exempt
Start Date: Immediate
Location: Solana Beach (San Diego County), CA. Daily in-office schedule. Relocation assistance is not available for this position.
Although Cognella currently embraces a hybrid remote/in-office work schedule for employees in San Diego County that balances the flexibility of telecommuting with the benefits and necessity of in-person work and collaboration, each role and department is different. Cognella reserves the right to change its telecommuting, remote, or hybrid work policies at any time. In order to successfully work remotely, employees must provide a proper home workstation setup, which includes reliable, high-speed internet connectivity and a workspace large enough to accommodate dual monitors, laptop, and accessories that is free from distractions.
To Apply: For consideration, please email cover letter and résumé to careers-it@cognella.com using subject line Desktop Support Associate, and include a quick, genuine message about why this position sounds like a great fit for you and what qualities you are looking for in an employer. All submissions will be held in confidence.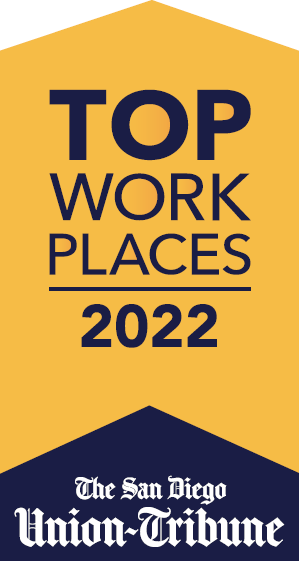 About Cognella:                                                                                    
Cognella® is redefining academic publishing by creating teacher-driven, student-centric higher education course materials in print and digital formats under three imprints: Cognella® Academic Publishing, Cognella® Custom, and Cognella® Active Learning. Cognella also publishes engaging nonfiction titles featuring modern perspectives as Cognella® Press. Learn more at www.cognella.com.
Cognella was recently awarded a 2022 Top Workplaces designation by the San Diego Union-Tribune (sixth consecutive year). We're proud to offer Cognella team members a work environment that fosters collaboration, innovation, and the opportunity to contribute significantly toward the goals of the company.
Cognella, Inc. is an Equal Employment Opportunity (EEO) employer.
Recruiters, please do not contact this job post.